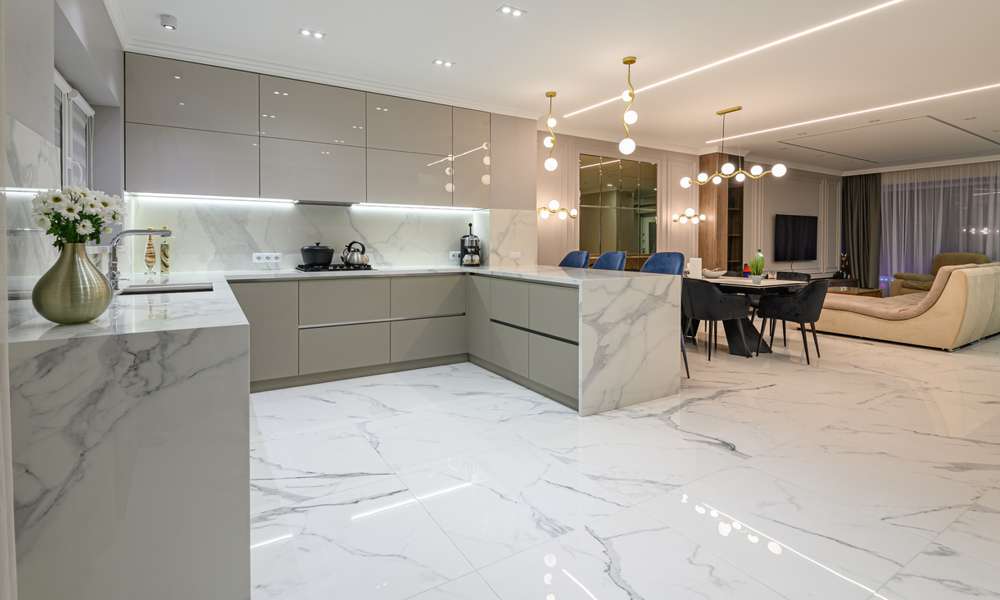 Marble FLoorings
Indulge in the epitome of luxury and sophistication with our premier marble floor installation services. With a rich history of adorning palaces and estates, marble floors continue to symbolize opulence and refinement. Our skilled artisans meticulously curate and install every tile, guaranteeing an artful symphony of patterns and a flawless, enduring finish.
From classic Carrara to exotic Calacatta, our wide selection of marble varieties allows you to handpick the perfect stone that resonates with your style and vision. Our installation process is a testament to our commitment to excellence – precise measurements, expert cutting, and expert installation ensure a seamless and awe-inspiring floor that captivates the eye and radiates grandeur.
Marble's innate durability ensures that your investment remains timeless, withstanding the test of time while acquiring a graceful patina that tells a story unique to your space. Whether it's your living room, foyer, or commercial space, our marble floors transcend mere flooring, becoming a work of art that transforms interiors into breathtaking canvases of elegance.
Discover the allure of marble with us, where every step is a journey through beauty and luxury. Elevate your space and embrace the magnificence of marble floors – a testament to your impeccable taste and appreciation for the finer things in life.
Laminate Flooring
Laminate Flooring offers you a beautiful, authentic look of hardwood, it is very durable and prices are very reasonable for both material and installation! If you like the natural beauty of hardwood flooring or stone but want quick and simple installation, laminate flooring is the way to go.
Installation Process
Laminate floors are very easy to maintain, durable and extremely scratch, sunlight fade and stain resistant. Don't forget – Fontoura Stone is always here to provide expert advice and laminate flooring installation.
Showroom Location
Each of our showroom locations, located in Miami, Florida is staffed with highly trained flooring professionals, eager to make sure you get the right carpet, hardwood, laminate, tile or vinyl flooring for your lifestyle, taste, decor, and budget.
Hardwood Flooring Products & Installation Services
We specialize in providing exceptional hardwood flooring solutions that enhance the beauty, elegance, and value of residential and commercial spaces. With our extensive selection of high-quality hardwood materials, expert installation services, and commitment to customer satisfaction, we're dedicated to transforming your space into a timeless masterpiece. In this guide, we'll explore the benefits of hardwood flooring and showcase our comprehensive range of products and services.
Personalized Consultation:
At Fontoura Stone, we begin every project with a personalized consultation to understand your vision, lifestyle, and design preferences. Our knowledgeable team will work closely with you to assess your needs, offer expert advice, and guide you in choosing the perfect hardwood flooring that matches your style and meets your specific requirements. We'll discuss various wood species, colors, finishes, and textures to ensure the final result exceeds your expectations.
Extensive Selection of Hardwood Flooring:
We take pride in offering an extensive selection of high-quality hardwood flooring options to suit diverse tastes and design aesthetics. The Fontoura Stone collection includes a wide range of wood species, such as oak, maple, walnut, hickory, and more, each with its unique characteristics and charm. From traditional to modern designs, we have the perfect hardwood flooring that will complement your space and enhance its overall ambiance.
Professional Installation Services:
Our team of skilled professionals at Fontoura Stone is dedicated to delivering flawless hardwood flooring installations. With years of experience and a keen eye for detail, we follow industry best practices to ensure precise and efficient installations. We meticulously prepare the subfloor, ensuring a level and sturdy foundation. Our expert installers carefully lay each hardwood plank, paying close attention to patterns, joints, and alignment for a seamless and visually appealing result. We prioritize your satisfaction throughout the entire installation process.
Customization and Design:
At Fontoura Stone, we understand that every space is unique. That's why we offer customization options and design flexibility to bring your vision to life. Whether you prefer wide planks, distressed finishes, or intricate patterns, our team can accommodate your specific design preferences. We'll collaborate closely with you to create a custom hardwood flooring solution that reflects your personal style and adds a distinct character to your space.
Restoration and Maintenance Services:
In addition to installations, Fontoura Stone offers hardwood flooring restoration and maintenance services to keep your floors looking their best. Our team of experts can revive the natural beauty of your existing hardwood floors through refinishing, repairs, and deep cleaning. We'll provide guidance on proper maintenance techniques, including the use of high-quality products, to extend the lifespan and preserve the integrity of your hardwood flooring.